ws2811 led strip with TC-809 controller light up the art work in shenzhen longhua!
Shop link for the led strip for the above project  as follow 
 https://www.rose-lighting.cn/products/60led-20pixels-ws2811-digital-rgb-led-strip-12v-14-4w-m
it is made by 200pcs  2.6meter long ws2811 5050 rgb pixel led strip .
2.TC-809 controller.
Quantity: 2pcs used for above pr0ject
https://www.rose-lighting.cn/products/tc-809-artnet-dmx512-spi-led-controller
https://www.rose-lighting.com/products/artnet-spi-dmx-led-controller-tc809/
Artnet to dmx converter, Art-Net Input, SPI/DMX output, Support Madrix software etc.
Model :CS-TC809

Input :Art-Net

Output :8 Ports

Universe :6U(1020 pixels) /1 port

Protocol :DMX / SPI / TTL

Control mode :Cascade-controller
The TC808 controller is a controller with LCD digital interface display, which converts Ethernet signals into various pixel lamp chip signals. It adopts standard Ethernet protocol and supports Art-Net protocol. Eight output ports can control a variety of LED driver chips and support automatic addressing. The input network port can be directly connected to the computer network card, and can also be connected to a switch and a photoelectric converter. It is widely used in buildings, municipal lighting, stage scenery, entertainment venue decoration, etc.; it can achieve various running changes such as horse racing, running water, tailing, color painting, scanning, raindrops, etc. It has the advantages of convenient wiring and simple use; Single unit can be used in cascade connection.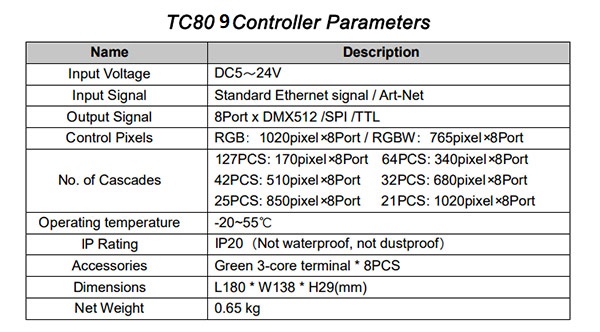 Functions and features
the software: Madrix 
Download the madrix 5.0 version software here please.(software free , but need our key to open it after installing )
take noted for installling madrix.
Please uninstall other previous versions of Madrix 5.0.
       Install the main program first. After copying the patch file to the desktop program, right-click to open the software as an administrator. After opening the software, do not choose to upgrade, otherwise the software will not be opened. If you can't open it after upgrading, you need to uninstall and reinstall it completely. Or you can uncheck the upgrade check box in the software settings.
       In Preferences, Options, Startup. If the computer has the madrix 3 software installed, you do not need to uninstall the 3 version.
Some computers can't be turned on, you can do this,
1. Right-click to open as an administrator
Uninstall 360 Mobile Assistant, put the root directory file on the taskbar of the computer, and open it in the taskbar
2. Uninstall the anti-virus software Tencent Computer Manager and turn off the built-in anti-virus software
3. There is no graphics card option for the right-click of a single laptop
NVIDIA graphics card option changed to automatic
4. The discrete graphics card cannot be opened in the mode, and the single-machine right-click is opened with the integrated graphics card, and then update the driver or make the system again
5. When the computer turns on the effect, the up, down, left, and right arrows not bedisplayed, which is a resolution problem
6. If there is 360 software to add trust. otherwise the file will be killed
3 led power supply
meanwell nonwaterproof Type LRS–350-12V
Quantity:  30pcs used fo the project 
PS:We  have spcialize in digital led strip, digital led pixels for almost 10years experience ..
Our main products are led strips ,led pixel and projects and the accessories like power supply and controllers.
we focus on project product with competitive solution and engineering service for you ..
may you share us details about your project please ?
And project inquiry is welcome, we could provide everything need in projects, including controllers, softwares instructions.
Reply to get E- catalog and free samples!
any questions ,donot hesitate to contact with us please,
We will be happy to give you a competitive quotation upon receipt of your detailed requirements.
There are competitive price and project solution to work your project out!