Rose Lighting light up the Imperial Club datong  in shangxin province 
project address:   Rose Lighting light up the Imperial Club datong  in shangxin province 
Light Type show 1:Digital pixel  rgb led strip ,,which is mounted in wooden groove.
DC12V  flex digital pixel led strip  ws2811  60leds/m  20pixels/m
the ws2811 led strip  mounted inside the wooden groove , light up the labby and  Aisle,
Control by  H803SA with sd card( can be programmed into any effect by programming software ledstudio software)
http://www.huacanxing.com/product/79-en.html
H803SA  follow to  a Intelligent light controller with control panel,which is mounted on the wall.
it named dmx512 acousto optic linkage controller too,(which can read the sd card effect )
below is the video of our worker work on site today .
https://www.youtube.com/watch?v=IXmi6vcme70
Light Type show 2: digital Pixel silicone neon  DIY led ring
digital silicone flex RGB pixel neon led 
the Digital silicone flex neon led tube mounted on the outdoor  building wall to make DIY circle show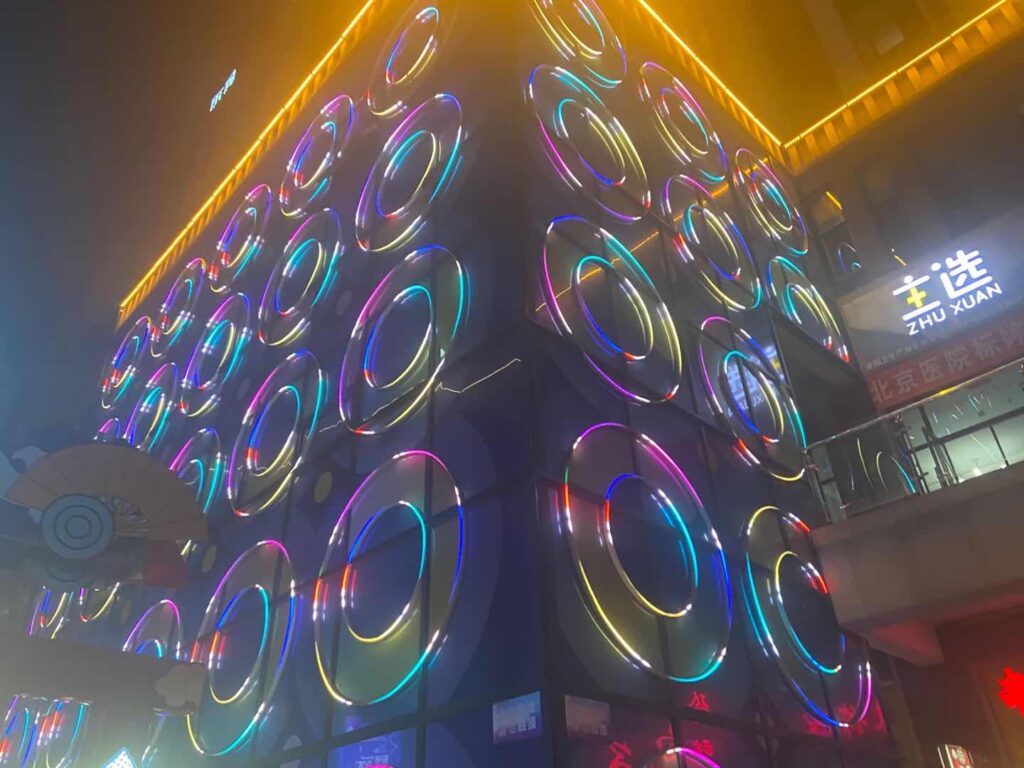 Control by  programming sd controller K8000C ,( can be programmed into any effect by programming software lededit software)
https://www.youtube.com/watch?v=b5foJXfQF7Q
The  project accessories and cost as follow;
item
Photo
P/N
decription
unit
quanity
Unit price(USD)
amount(USD)
product specification link
1
RL-STR-ws2811-5050RGB-60-12V
1) LED Type:5050RGB led
2 )Led Qty: 60 leds/m
3 )
4)IC:ws2811(20Pixels/m)
5 )View angle: 120°
6)Warranty 2years         7)Dc12V 14.4watt/M
meter
1100
usd2.8
3080
https://www.rose-lighting.com/products/dc12v-3060led-ws2811-ucs-1903-2903-digital-led-strip/
2
H803SA
H803SA can be connected to DMX console, you can switch file, adjust speed and brightness by DMX console.
pcs
4
usd100
400
http://www.huacanxing.com/product/79-en.html
3
Intelligent light controller
dmx512 acousto optic linkage controller
pcs
1
usd100
100
https://www.rose-lighting.com/20200630123006/
4
RL-neon-ws2811-5050RGB-60-10X23
digital silicone flex RGB pixel neon led
meter
200
usd7.5
1500
https://www.rose-lighting.com/products/curved-shape-12v-24v-ws2811-ucs1903-digital-silicone-neon-led-23mmx10mmhxw/
5
K8000C

Programming K-8000C  sd controller

pcs
1
usd100
100
https://www.rose-lighting.com/products/programming-k-8000c-t-8000-updated-sd-controller-ws2812bws2811apa102-8024-pixels-program-controller/
if  you have  any led project need budget or design , contact with us here please
(there are  competitive  design solution and  budget to  help work your project out )
Shenzhen Rose Lighting Technology Co.,Ltd
Web: https://www.rose-lighting.com
T: +86-186-7564-9004 (wechat ,whatsapp ,QQ )