How to choose the  Digital led strip?
Since entering the industry in 2012, I have been exposed to magical lights. The most widely used T-1000S in the past has now become K-1000C.
Whether it is product richness or diversified application scenarios, it is changing with each passing day.
Our engineering magic lantern belt, the first to introduce external IC, TTL protocol, SPI signal, simple and easy to use.
1.The first step is to determine the venue, what occasion, what number of lamp beads should be used, and the waterproof level;
2.The second step is to determine whether the control method is a simple controller, offline, computer-connected, or console-connected;
3.The third step, the number of areas, a port is up to 1024 pixels, and then determine how many controllers are needed
4.The fourth step is to determine the corresponding power supply and auxiliary materials
5.Finally is to determine whether the technical docking person chooses remote/onsite guidance fees.
| | | | | | | |
| --- | --- | --- | --- | --- | --- | --- |
| Led quantity | 30 | 60 | 72 | 84 | 96 | 144 |
| Voltages | 12V | 24V | | | | |
For 30 led/M strips,lamps are generally hidden in a relatively deep background wall, and the light is not seen                                                                               
 
2.60 lamps are the most cost-effective, commonly used with aluminum tank/silicone.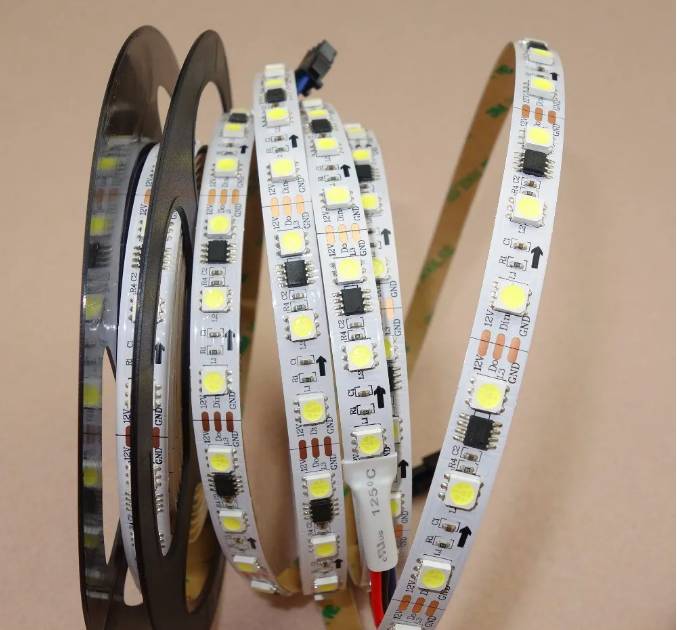 3.Not everyone likes colorful changes, many people like to see the flowing white light
4.IP grade : IP20 nonwaterproof , IP65 waterproof with glue cover, IP67 waterproof with silicon tube, IP68 waterproof for silicon tube with silicon glue filled .
5. Because it is single-wire transmission, if the signal is  broken, the following signal is lose, and the following lights are all off. So the 2 singal wire (singal break continuous) ic chip coming.
Simply put, Symphony is the problem of 3 wires. Repeated positive/negative is used to supplement the power when connected in series. The controller is connected to the GND/DAT two wires.