Digital PIR led stair controller button or remote control  or app Mini Program Control
Type1)  Button Method 
V2-STEP-1002
ES32  
Download the detailed specification here please
app Mini Program Control
Model:V1-STEP-1001
Type 3) Remote control 
product specification for ES32
1)PIR  sensor switch, the output is connected to the low-voltage LED light strip.
2)32-channel constant voltage output, maximum 1A output per channel.
3)2 groups of SPI (TTL) signal output, can drive 27 kinds of IC digital RGB LED strips, can set IC type and R/G/B order。
4)LED display and 3-button operation。
5) four  work light  mode optional
6)Two stair light controllers can be cascaded
7)Built-in multiple color modes, adjustable speed 1-8.
8)Button switch can also be used as sensor signal input。
9)With quick self-check function
产品特点:
1、PIR人体红外感应开关,输出连接低压LED灯带。
2、32通道恒压输出,最大每通道1A输出。
3、2组SPI(TTL)信号输出,可驱动27种IC数字RGB LED条,可以设置IC类型和R / G / B顺序。
4、LED显示屏和3按钮操作。
5、可选四个工作灯模式。
6、可级联两个楼梯灯控制器。
7、内置多种颜色模式,速度1-8级可调。
8、按钮开关也可以作为感应信号输入。
9、具有快速自检功能。
ES32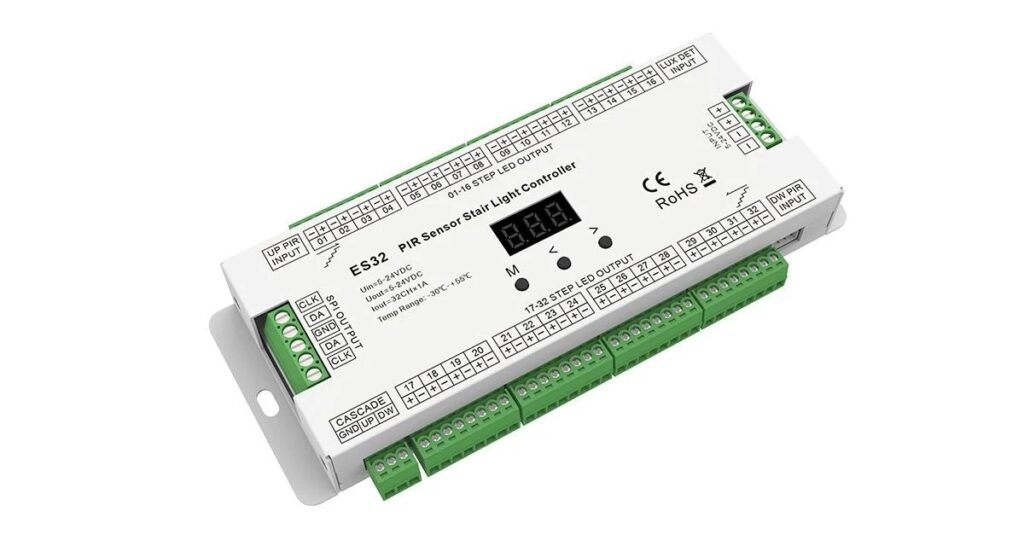 warm tips  before order
 confirm the side length  and total length for all sides ,make sure which installing method ,led strip can be mounted inside the aluminium profile or  Silicone tube ,
 confirm the  ladder quantity and width per ladder ( ladder quantity:32pcs Max)
 get ready of cable wiring and controller and led power supply connection or positition )
配单要求(chinese version)
侧边流水长度,总米数(确认铝槽/硅胶 类型)
楼梯的数据,级数和宽度,不超过32梯
提前预埋变压器,控制器以及走线
Application