Rose lighting 24V SM16703 ws2811 flex led strip 10pixel 60 epistar leds /m light up your nightclub cool!
https://youtu.be/v5Fbxv-rQkg
This project is Designed and installed by sky lighting in Myanmar
Light strip Type 
Dc24V SM16703PB  5050 RGB pixel led strip  60leds(epistar chip)   10 pixels/m  ,
Quanitty: 400meter  ,
which is moutned  inside the  Soft film to make  various shapes Or patterns . 
it protect led strip and make good lighting effect ,
click our website for detailed specification if you love it ,
https://www.rose-lighting.com/products/ws2811-10mm-width-digital-led-strip-dc-24v-60leds-per-meter/
You can put the led strip in the groove and use the  following Covering  silicone shell to make the same effect . (but no light spot ,most of all it save much labor cost and easy to repair )
https://www.youtube.com/watch?v=t0GLmm0JVoo
click our website for detailed catalog for these silicone neon tube covering ,which  it protect led strip and make good lighting effect ,no light spot ,most of all it save much labor cost and easy to repair ,
 https://www.rose-lighting.com/new-silicone-flex-neon-led-tube-in-order-to-save-time-and-money-for-our-clientsused-for-indoor-hotel-ktv-bars-decoration/
http://www.rose-lighting.com/wp-content/uploads/sites/53/2021/07/latest-neon-tube-for-led-strip2021.07.20.pdf
( unit price for silicone neon tube covering for led strip)
http://www.rose-lighting.com/wp-content/uploads/sites/53/2022/03/Silicon-neon-tube-Rose-lighting-2022.03.18.xls
led control:
Artnet to dmx converter, Art-Net Input, SPI/DMX output, Support Madrix software etc. 

Model :TC-809 controller.
Quantity: 1pcs used for above pr0ject,
Model :CS-TC809

Input :Art-Net

Output :8 Ports

Universe :6U(1020 pixels) /1 port

Protocol :DMX / SPI / TTL

Control mode :Cascade-controller
The TC808 controller is a controller with LCD digital interface display, which converts Ethernet signals into various pixel lamp chip signals. It adopts standard Ethernet protocol and supports Art-Net protocol. Eight output ports can control a variety of LED driver chips and support automatic addressing. The input network port can be directly connected to the computer network card, and can also be connected to a switch and a photoelectric converter. It is widely used in buildings, municipal lighting, stage scenery, entertainment venue decoration, etc.; it can achieve various running changes such as horse racing, running water, tailing, color painting, scanning, raindrops, etc. It has the advantages of convenient wiring and simple use; Single unit can be used in cascade connection.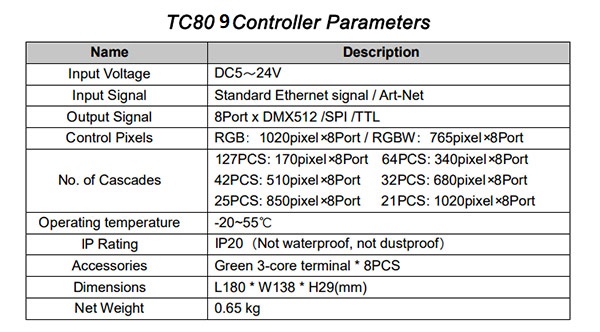 Functions and features
click our website for detailed user for the TC809 art net led controller ,it can support online or offline controller ,can support dmx512  console too.
https://www.rose-lighting.com/products/artnet-spi-dmx-led-controller-tc809/
there are some other  artnet led controller such as 6612 Pro can replace it ,,depands on your love  .
Below are some information about  led controller 6612
Artnet-Pixel (spi/dmx) led controller offline stand-along player Madrix effects record 6612-pro  support 12X1024 pixels with sd card and suppor dmx512 console 
Features
(1). 12 output ports, controls maximum  12288pixels, each port controls maximum 1024 pixels.
(2).Offline SD card, single model controller, with sd card to play the programs inside.
SD card supports FAT32, FAT16 format; the maximum capacity is 64G bytes, stores up to 64 DAT files.
(3).Shadow-1-6612 can be connected to DMX console, you can replace file, and adjust speed and brightness by DMX console.
Can connect to DMX console, replace file, and adjust speed and brightness and responses quickly.
(4)FPGA, as the core processor, truly realizes high-load, high-speed, and high-gray control
(5)suport drawing lighting diagram wireless ( inkbook wifi inside the led controller)
(6)LED display, display parameters and address codes, and set address codes and parameters in combination with buttons
(7)Supports various types of lighting driver ICs: DMX512, UCS series, TM series, LX series, GW series, TLS series, MY series, etc. LED industry driver ICs
(8)The output interface can be compatible with differential signals and TLL signals at the same time
(9)Support RGBW four-color control and a variety of special control, RGBW can choose energy-saving mode and brightening mode
(10)Support true high gray scale control, up to 65536 gray scale control can be achieved, support gamma correction
(11)Support external console control, support access to private room intelligent central control, real-time control.
Advantages:
1.It can make  wiring diagram wireless actual to the project .
it is Wireless, no need to make wiring dirgarm by hand  . Which will save time and labors fees.
it could test the special sections in the layout . Like if we order section 3 blue color in the wirding diagram , it will send signal to DMX controllers by WIFI . 
Then the section 3 will show green color . If not, there is IC broken .
So it will help us in aftersale maintainance .
Introduction
Shadow-1-6612 is a single led controller of the off-line control system. It has 12 output ports, can control 122888 Pixels
Shadow-1-6612 can be connected to DMX console. Customer can adjust it via DMX console.
Shadow-1-6612 has 12  output ports, drives maximum 12288 pixels.
Three buttons and LCD screen are convenient for operation. Can be synchronized with AC power supply and connected to DMX console.
Shadow-1-6612 can drive the following chips: LPD6803, LPD8806, LPD6812, LPD6813, LPD1882, LPD1889, LPD1883, LPD1886, DMX512, HDMX, APA102, APA104, P9813, P9823, LD1510, LD1512, LD1530, LD1532, UCS6909, UCS6912, UCS1903, UCS1909, UCS1912, WS2801, WS2803, WS2811, DZ2809, SM16716,  TLS3001, TLS3002, TM1812, TM1809, TM1804, TM1803, TM1914, TM1926, TM1829, TM1906, INK1003, BS0825, BS0815, BS0901, LY6620, DM412, DM413, DM114, DM115, DM13C, DM134, DM135, DM136, 74HC595, 6B595, MBI6023, MBI6024, MBI5001, MBI5168, MBI5016, MBI5026, MBI5027, TB62726, TB62706, ST2221A, ST2221C, XLT5026, ZQL9712, ZQL9712HV, etc.
the  software is " ShadowDraw " and Madrix .
Notice: the maximum pixel number that each port can control only means the output ability of controller, whether actual signal can transmit to the end or not depends on the performance of lamp, EMI of switch power supply and the total interference of engineering field.
https://www.rose-lighting.com/products/artnet-pixel-spi-dmx-led-controller-offline-stand-along-player-madrix-effects-record-6612-pro-support-12×1024-pixels-with-sd-card-and-suppor-dmx512-console/
the software: Madrix 
Download the madrix 5.0 version software here please.(software free , but need our key to open it after installing )
There is a lot of lighting software such as madrix ,depence ,resolume ,MA2 ,,,ect on big promotion , which we have alot in stock, reply us for sample and engineering service to work out your project please! enjoy our new product and project as follow please !
https://www.rose-lighting.com/blog/
Ps: be our client ,you will be loved ,
there is free madrix 5.0 key with 2048 universies to work out your madrix project please !
led power supply
There are  meanwell  led  power supply  model LRS-350-12V used  project.
Quantity:20 pcs which is  used for the project .
PS:be our clients..you will be loved
there is competitive mean well led power supply offer to work out your project
Rose Lighting is professional led strip manufacturer ,
we focus on led strip and project solution since 2012 in shenzhen china,
Our Main Type: Pixel led strip , rigid led strip/bar dmx512 led strip , digital led strip , RGB led strip , CCT dimmable led strip , neon flex led strip , normal led strip and customized led strip led controller and accessories
-focused on manufactuering led strips more than 8 years.
-competitive price and project solution service
– more than 100 project case each year
-all Types of led strip are available.
-skilled support team and engineering service
– visable all kinds of project case show and Exhibition board in our showroom
-realiable and guaranteed payment by alibaba.
reply us for the lateat price list for led strip and led power supply ,,ect if you interest. Thanks for attention