XB-C100 DMX512 address writer —One key writing address ,testing super smart Writer!
For the XB-C100 writer , it could be provide power by DC5V~24 V power wire, and could be charge by USB port ,too.
Writing video :   https://youtu.be/IrKiy67ZHOg
1.VCC GND for DC12V ~24V power wire.
2.The power indicate light .
3.Working status light.
4.SD card position.
5.Out put connector to connect to DMX512 led products.
6.Micro USB power port.
7.Power button, turn on/off the machine.
When we start to writing address:
1.Trun on the power button , and the write will like this:
The left button is for normal workiing stutas, while right button is testing button which including write address, so click the right button.
After click the right button , it will show 4 button , writing address, test address, seting parameter, testing effects. We choose the upper left button , to write address.
Then it will show the ic chips your products, choose the correct ic chip you use.
Choose the Correct ic chip you use: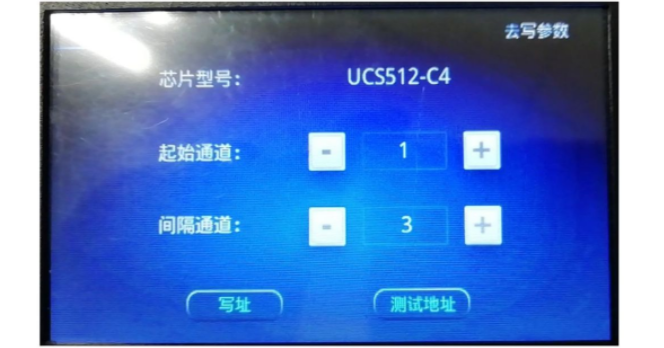 Choose the starting channel and the channels of one iC chip, If it is DMX512 RGB IC , then make the second number into 3, if it is DMX512 RGBW , then make it shows 4 .
And then click to  start the write address, click the left button ,then it will show the following picture.
It means a tip: when it finish writing address, the first IC (leds) will show white color, while the following leds will show white color.Just click the left button (the arrow shows)
Now it is shows writing address. When complete writing writing address, the led products will turn into white color+ red color.
After write address, you can clink the right button to test the address :
Then if it is 3 channel DMX512 RGB IC, the first number is 3 , if it is DMX512 RGBW , make it 4. Then clink the arrow button to start test.
Then the prpducts will running the IC chip one by one.
Whole writing finished.
The new touch screen code writer XB-100 dmx512 address writer
1.XB-C100code editor:Large display panel, convenient touch screen operation and rich display.
2.XB-C100 supports operating system upgrade.
3.XB-C100 adopts built-in battery, support continuous work for 10 hours.
4.XB-C100 supports mainstream model DMX512 chip, can write code and write parameters to DMX512IC.
5.XB-C100  can perform DMX512IC lamp channel address test and test results.
6.XB-C100 port outputs enhanced TTL and 485 differential (DMX) signals, which can load TTL/DMX512 lamps.
7.XB-C100  can support maximum 512/2048 pixels (DMX lamps with a maximum of 512 pixels, for example with three channels).
8.XB-C100 22 built-in test effects (optional three-channel / four-channel built-in effects).
9.XB-C100 can insert SD card to play effects (software effect output selection K-1000), using the same as the K-1000C controller.
二、Code editor interface definition:
Code editor interface and indicator definition
No.
Name
Port silkscreen
Definition 
1
Charging port
VCC/GND/VCC
DC12-24V power supply socket
2
Power Indicator
POWER
Power indicator (normally on when power on)
3
Status Indicator
Status
Status Indicator
4
SD card slot
SD
SD card slot (play program)
5
Signal output port
GND/A/B/ADDR
Single wire DMX512 connection port
6
USB charging port
DC5V
USB DC 5V power supply port
7
Switch
SWITCH
Code editor switch
8
Touch screen
—-
Code writer operation panel (touch screen)
三、Function definition
Download the detailed  user specification here please 
http://www.rose-lighting.com/wp-content/uploads/sites/53/2021/08/XB-C100-code-editor.pdf
Rose Lighting is professional pixel led manufacturer ,which integrating production, R&D, sales and engineering .
we focus on Pixel led and project solution since 2012 in shenzhen china ,Our Main Type: Pixel led strip ,Neon flex led ,RGB led strip , Pixel led dot ,Pixel led ball ,pixel led tube.
Rose Lighting focus on project product with competive solution and engineering service for you!
enjoy more about our product and new project from our website .
any questions ,donot hesitate to contact with us please,
There are competitive price and project solution to work your project out!