Full color addressable ws2818/LB1934A TM1934A dual signal Pixel RGB 5050  LED Strip 10pixels/m 60leds/m
https://www.youtube.com/shorts/gXG8RugUZu4
Describe:
– Control IC included, supporting numerous Color-change effects;
– Pcontrol by SD controller,Arduino,DMX512,Artnet;
– Flexible PCB 12V low voltage input;
– 60 RGB smd 5050 leds and 10 Pixels   per meter;
– Absolutely addressable ,each IC control 6 leds
– 5M per roll,also Customer's length available;
-there is four line , DateA and Data B and GND and DC24V+ 
Specification
| | |
| --- | --- |
| Item | RL-STR-LB1934-5050RGB-60-24V |
| LED Quantity | 60leds/m |
| PCB thickness | 10mm width,2 ounce copper( 35um thinkness) |
| PCB Color | White PCB ,Black PCB |
| IC type | LB1934A (SPI protocel ,same work as ws2811,ws2815) |
| cutting unit |  100mm |
| IP Rating | IP20/IP65/IP67/Ip68 |
| Connector | 4PIN JST-SM connector |
| Control Model | SPI control |
| Controller | T1000s/K1000c/T-500K/Arduino/Glediator/DMX/Artnet/Raspberry |
| Product Keywords | dual signal pixel led strip ;LB1934 pixel led tape |
Advantages
1.  This is dual signal  24V pixel led strip ,  that different with the dual signal , one pixel no work , donot affect next pixels  working ,
2. It comes in 1 meters per reel with 4Pin female/male JST SM connector on both end and separated Power / Ground Wires . Customized length is workable .
3.12V and 24V optional ( 3leds one IC with 12V, 6leds with one IC with 24V)
4.2unce PCB board with double cooper layer(hongqi brand 35um copper )
5.doublesides membrane cover the pcb board. make sure the copper no drop from the pcb board
6. Flexible PCB material . ever 3 LEDcan be cut with 12V, ever 6 LEDcan be cut with 24V,
7. 60leds per meter  . 24V low voltage inputted , don't over 25V , otherwise you will destroy the entire strip .
8. Controller System:SD controller , DMX controller , Artnet and so on .(SPI protocel)
9. Installing : screw+silicon clipand 3M adhesive on back side for sticky

10.Packaging
5m/roll 60rolls/ carton carton size: 48cm*48cm*28cm  GW: 12.5kg with nonwaterproof Ip20
Waterproof Rate:
IP20 Non-waterproof with 3M sticker on the back

IP65 waterproof is silicone gel on the surface

IP67: silicone tube/coating

IP68: silcone gel(or epoxy) inside silicone tube.
Connection guide
SPI signal: LED Strip+LED power supply +LED controller
DMX control: LED Strip+LED pwer supply+DMX Controller+DMX decoder
LED controller: T- series SD card controller, RF remote controller, DMX controller, Arduino.
(offline / PC online)
LED power suppply: power supply, T- series, A- series power supply…(waterproof / non-waterproof)
Picture details:
总有客户问我们灯带为啥这么贵,材料不一样,生意理念不一样。
设计上:别人是1电阻1电容,我们是4+1,头部还加了防反接保护的。
灯珠:每一颗灯珠都种球,加强焊线工艺
​线路板:3535铜双面覆膜
​质保:2年内5%不良免费换新;超过5%产品问题,自费全换。别人的就不知道了。
​我们想用好的产品换取可持续发展的时间空间,而不是为了短暂赚点钱就换行了。
24V  white pcb and black pcb optional !
Black PCB (on the right ) 12v optional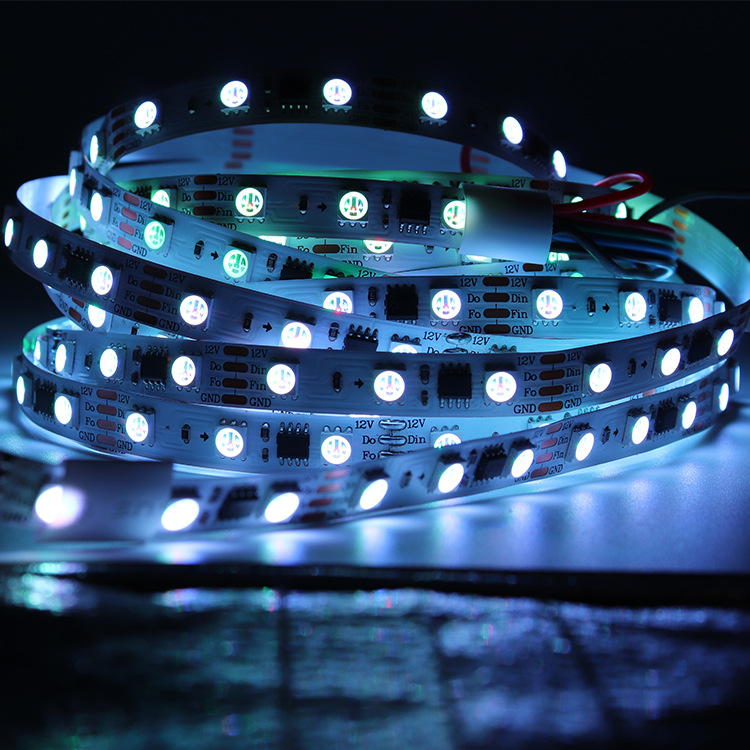 Video show