Customized Dc24V digital white running water  2835 Pixel LED Strip ws2811 8pixels/m 120leds/m
Application:
1. Architectural decorative lighting and backlighting for homes, hotels, marketplaces, bars etc;
 2. Auditorium walkway lighting, outdoor illuminated signs and advertisements;
 3. Illumination lighting using business walkway, canopy, stairway lighting, amusement park;
 4. Channel signal lighting for stores, restaurants, bars, etc;
 5. DIY lights for home use;
Customized Dc24V digital white  2835 Pixel LED Strip ws2811 8pixels/m 120leds/m
( with PIR sensor and mini led controller with flow water effect inside)
https://youtu.be/OAGcaJ0BjFA
There is 20 pixels 120led per meter optional 
Describe:
Item: RL-STR-ws2811-2835–8P-120-24V

IC Type:ws2811 TM1903

Color:white (2000k–6500K optionl)

LED  Type: smd 2835 led

LED Quantity: 120 leds per meter

Size: 5000*10*1.5(mm) 

View angle:120°

Working Input Voltage: 24V 9.6W/meter

Drive Mode:Constant Voltage

Pixels/M :8pixels/M
waterproof TypeIP20 Non-waterproof with 3M sticker on the back, Size:5000*10*1.5mm

IP65 waterproof is silicone gel on the surface,Size:5000*10*3mm

IP67: silicone tube,Size:5000*12*2.5mm

IP68: silcone gel inside silicone tube.Size:5000*12*2.5mm
1.PWM refresh rate: 800kHz, transfer speed 800k bps,
2. It comes in 1 meters per reel with 3Pin female/male JST SM connector on both end and separated Power / Ground Wires . Customized length is workable ,
3. Pure copper bracket and pure gold wire for 2835 smd led ,
4.2unce PCB board with double cooper layer(hongqi brand 25um copper )
5.doublesides membrane cover the pcb board. make sure the copper no drop from the pcb board
6.120 pcs smd 2835 leds ,
7. 24V low voltage inputted , don't over 25V , otherwise you will destroy the entire strip .
8. Controller System:SD controller , DMX controller , Artnet and so on .(SPI protocel)
9. Installing : screw+silicon clipand 3M adhesive on back side for sticky

10.Packaging
5m/roll 60rolls/ carton carton size: 48cm*48cm*28cm  GW: 12.5kg with nonwaterproof Ip20
waterproof Type
IP20 Non-waterproof with 3M sticker on the back, Size:5000*10*1.5mm
IP65 waterproof is silicone gel on the surface,Size:5000*10*3mm
IP67: silicone tube,Size:5000*12*2.5mm
IP68: silcone gel inside silicone tube.Size:5000*12*2.5mm
Product details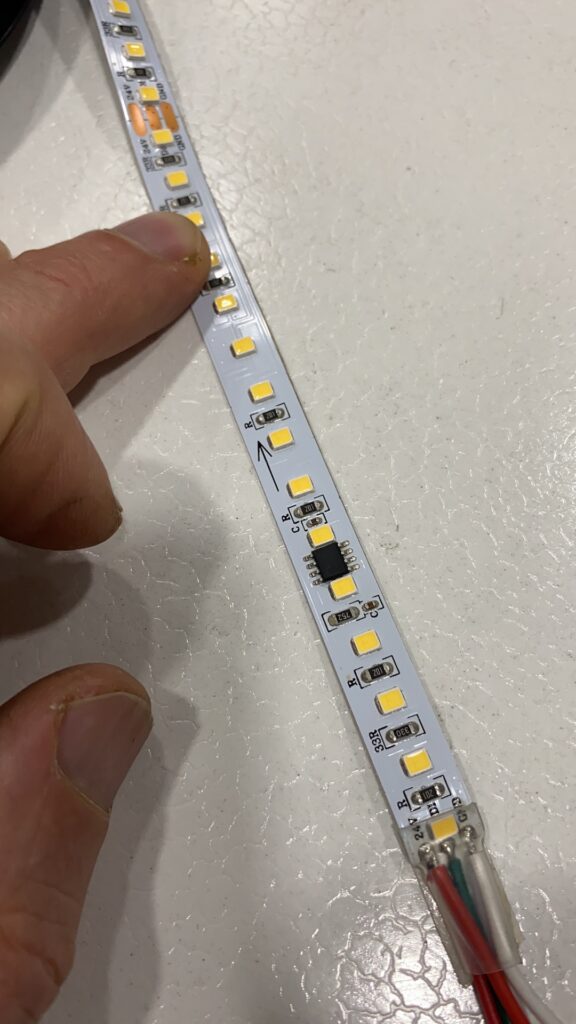 Download the detailed datasheet here please
flow water  RGB color led controller 
flow water   color led controller 
Flow water dual white pixel panel led controller kit
20pixels  120led per meter  optional 
Running water led controller 
CCT chart for white