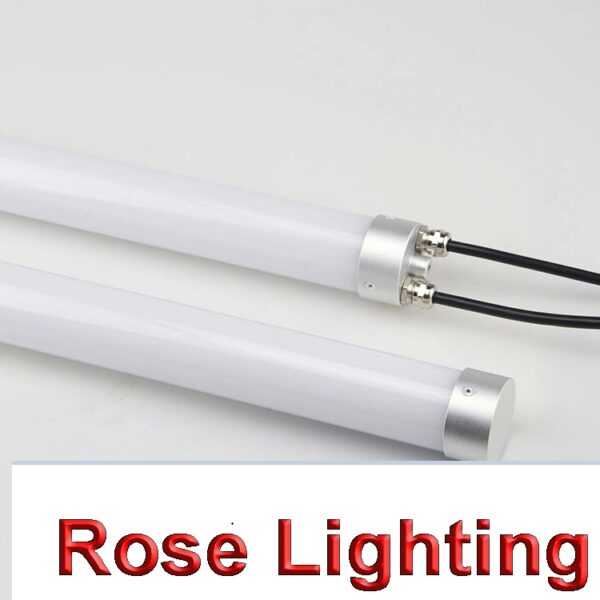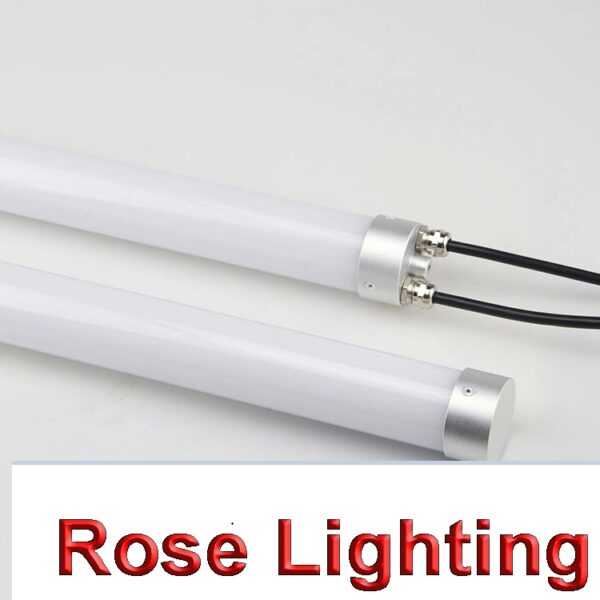 40mm diameter dmx512 3D View Milky White Pixel no lighting spot SPI tube
– All the tubes were transparent case on the market as there will be lighting spot(shadow) if made the
milky white tubes. But now this 40mm milky white pixel led tube solves the issue with a perfect lighting
performance
– There is a pair of connectors and one installation hook from top cap
– Please note that the tube can be installed in two ways, so there are some differences with the tubes
and accessories
– Both top and end caps are made by anodized aluminum
-84pcs RGB smd 5050 led per strip ,2pcs strips make 360 viewing ,in total 168leds//M
40mm diameter dmx512 3D View Milky White Pixel no lighting spot SPI tube
Overview:
First of all, 40mm diameter dmx512 3D View Milky White Pixel no lighting spot  tube , complains to the dmx512 standard communication protocol.
Double sides PCB LEDs, achieve 360 degrees emitting and without shadow. each side 72pcsRGB smd 5050 led ( double side is 144 leds/m)
Dc12V working voltage 34.56W/m with dmx512  protocel
Diameter is 40mm, 4 sizes for optional, 0.5M, 1M 1.5M, and 2M, indoor use, no waterproof.
Data sheet:
| | |
| --- | --- |
|   Product: | 40mm diameter 3D View Milky White Pixel no lighting spot SPI tube |
|   Item No.: |   RL-Bar-dmx512-5050RGB-144-24V- |
|   LED: |   SMD5050-RGB, 24pixels/m  72channels |
|   View angle: |   360° |
|   IC Chip: |   dmx512 |
|   Input voltage: |   24V |
|   Power: |   34.56w/m  72leds/side 144leds/meter |
|   Size: |   1000×40(mm) 500X40(mm) |
Features
Firstly, Diameter is 40mm, Customized available.
Secondly, DC24V power supply, 24pixels per meter, standard dmx512 communication protocol. Double sides PCB leds, achieve 360 degrees emitting and without shadow.
Thirdly, At the boths ending, we use the multi-fuction springs and it makes the product more flexible.
Fourthly, Works with universal ball joint and the stage lifting machine to control the tube up and down with effect changing.Lastly,
84pcs per meter (two sides make 144 leds per meter )
Normal size we have: 0.5M/1M/1.5M/2M Using
P20 Non-waterproof designed for stage entertainment lighting, TV show
Full 360° viewing angle, no lighting spot(no shadow)
Vertical or horizontal hanging installation
Application:
Widely used for home decoration use, hotels, clubs, shopping malls
> Architectural decorative lighting, boutique atmosphere lighting
> Extensively applied in background lighting, concealed lighting, channel letter lighting
> Emergency & security lighting, advertisement sign lighting
> Decorative lights for holiday, event, show exhibition
> Applicable for automobile and bicycle decoration, border or contour lighting

Product Control:

This pixel tube runs with SPI signal

(can make dmx512 control ,but need set DMX address set by manually, so you will need a DMX address writer)

Each tube has  168DMX channels(56Pixels) per meter, 168pcs RGB smd 5050 leds per meter (each side 84pcs led per meter)

It can work with any standard SPI controller or Artnet controller
Photos:
Accessories
Art net Ethernet-SPI/DMX pixel light controller(BC-216)
1. With LCD display and built-in WEB SERVER setting interface, easy operation.
2. Support Ethernet DMX protocol ArtNet, sACN(E1.31) (only V2 versions), can be expanded to other protocols.
3. Multi SPI (TTL) signal output, up to 5440 pixels control.
4. Output DMX512 signal at the same time, convenient for the connection of different types led lamp.
5. Support various LED driving IC, flexible control.
6. Support online firmware upgrade.
7. Adopt DIP plug-in design for the easily-worn parts, Users can repair the damage caused by wrong wiring or short circuit.
8. Built-in test mode, using a network interface with indicator light, work status is clear when at a glance.
Video show